D & R has over 50 years of experience!
Our specialty is in the care and restoration of wooden artifacts, and upholstered furnishings.  At D&R Restoration we provide minor touch ups, restoration, and major repairs and refinishing to furniture and architectural elements for individuals and commercial customers.
All our touch ups, restoration, and repairs can be offsite or in our shop.  We provide matching finishes and repairs to the highest quality using modern practices and traditional techniques.  D&R Restoration uses the least invasive methods to repair and preserve the condition of your cherished heirlooms.
We have worked on countless antiques and midcentury modern furniture.  You can see our work in our photo gallery.
specialty is the care and restoration of wooden artifacts, and upholstered furnishings..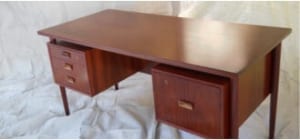 1462 Featherstone Road Woodbridge VA 22191 Services:
Refinishing
Finishing
French polishing
Stripping
Color and finish touch up
Color matching
Antiquing   Gilding
Re-Gluing   Hand Carving
Wood repair/replacement
Re-upholstery
Kitchen Cabinets
Moving damages
Library Refinishing
Insurance claims
Delivery/Pick up (available for a fee)
Upholstery Services:
Home and Auto Restyling
Tufting
Channel Backs
Throw pillows
Bolsters.
Fillers/Padding: Cotton, Dacron, Feathers, Foam (we only use Life Time foam), Hypoallergenic Fiber-Fill, Horsehair (natural or synthetic); and Down mixes of 50/50 or 80/20.
Trims: single or double cord, Twisted rope, French Nails, Gimps, fringes, Tassels and more.
Hand tied spring seats
Miscellaneous Services:
Lamp repairs and re-wiring
Designer and Dealer
Metal finishing and refinishing
Welding
Plastic finishing and refinishing
Referral Assistance with Estate buy outs, Auction, and Estate Sales
Testimonials from our customers:
"David Rickard has been a consistent and reliable expert for the past four years who has handled all of our restoration and refinishing needs.  From large dining tables requiring the most delicate hand to on-site repairs, David's expertise and attention to detail has made our projects shine.  He is always on time and fair to deal with.  We've worked with many individuals and we feel fortunate enough to have David in our corner."
– Sincerely, Robert C
My association with D&R Restoration and Conservation Group began when I bought a badly treated chest, and asked the dealer to recommend someone to do the work.  I was given two business cards and phoned D&R first.  After talking with David, I was sure he would do the job well.   David did a wonderful job restoring the chest, and since has worked on an 18th century chest on chest and a linen press.  He also re-glued chairs and restored a leg on my early 19th cenutry dining table.  Some of the repairs had not been done because of my concern about a botched job.   My wholehearted recommendation is, if you want the best quality work, don't hesitate to call D&R Restoration and Conservation Group.
– B.K.
To Whom It May Concern: Mr. David Rickard of D & R Restorations was highly recommended to me by an Antique and Antiquities Dealer in Alexandria.  I was looking to have my antique buffet repaired and restored.  I could not trust just anyone with the care of this piece, which I have owned for some thirty- three years and dearly love. He picked it up at no charge to me.  Worked on it and delivered it, again at no charge to me.  I was extremely anxious to see the work … my expectations were not only met, but exceeded.  The quality of his handiwork and the obvious care he took to restore it to its previous splendor was almost beyond words.  You had to see a before and after snapshot to fully appreciate the magnitude of the work he had done!  The price he quoted was fair and the finished price was within the estimated amount.  He fully delivered on his word. I would highly recommend his work as a professional that takes great care with the pieces he works on – it clearly is a passion to him; not just a job.
– Best regards, Nadia C
METAL FINISHING AND REFINISHING
REFERRAL ASSISTANCE – ESTATE BUYOUTS, AUCTION and ESTATE SALES
D & R Restoration is an award winning company with a reputation for the finest in Restoration and Refinishing work.
Some of the work we have done.
David Rickard
2020-07-14T21:30:26-04:00